ATAP, INC.

ATAP, Inc. is an employee owned small business located in Eastaboga, Alabama that is primarily involved in providing vehicle and ground support equipment (GSE) manufacturing, remanufacturing services, and part sales to the United States Department of Defense (US DOD), Foreign Militaries (through the US DOD and other Prime Contractors), and the military aircraft manufacturers.

ATAP, Inc., originally Quality Manufacturing, was founded in 1962 in Pell City, Alabama, and moved to its present location in 1963. Over the course of the company's forty five plus years, this facility has remanufactured ground support vehicles and equipment for the US Air Force, US Navy, and Marine Corps. ATAP is historically known as a Fire Truck / Crash Truck facility. We are presently the worldwide depot overhaul facility for A/S32R-11 fueling trucks and are performing an IROAN of the MRAP CAT I A1 Cougar line of vehicles. We have also recently completed an overhaul contract for the USMC A/S32P-19 Crash Fire Rescue Vehicle and a USAF contract to overhaul the A/S32R-12 Hydrant Serviceing Vehicle. We have overhauled 25K, 40K, and CL3 Aircraft Cargo Loading Trucks and many vehicle components on past contracts.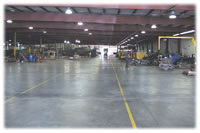 ATAP, Inc. has successfully developed, manufactured and delivered new vehicles as well. Some examples are the Flight Line Tow Tractor based on an F-350 chassis and the next generation A/S32R-11 6,000 Gallon refueling vehicle with the next generation engine management system integrated and options for Vapor recovery and Hydrant servicing as well.
ATAP, Inc. supplies parts to the US DOD and U.S. bases worldwide. Most of the equipment we build and/or service is of a highly specialized nature and is used to support the flight line on U.S. Military air bases as well as the warfighter in the field. ATAP has become sole supplier for many spare parts of this type and we have a reputation of supplying "hard-to-find" items. ATAP has built on this reputation and ability by securing the first Third Party Logistics (3PL) contract from WR/ALC from 2007-2014 and the follow on from 2014-2021. This contract vehicle tasks ATAP with sourcing, pricing, securing and distributing GSE and aviation tooling from a pool of 3,075 unique items from 97 Federal Stock Classes.
Our main strength as a company lies in our people. ATAP's employees possess a depth of experience that enables us to rapidly gear up for full scale production. These skilled technicians conduct high output overhaul without sacrificing the quality of our completed product. As an employee owned company, we operate on the premise that an employee is much more than a "means of production." An ATAP employee is part of the ATAP family and contributes their special skills to the success of each and every project.
Our name is derived from the New Testament verse Matthew 19:26 "through God, All Things Are Possible." God has certainly blessed our company and employees. We recognize that God is the provider of all good things (James 1:17). Our goal is to honor and glorify Him in all that we do by His grace and wisdom in providing excellent work for the benefit of our customers (Col 3:23-24).